Above is our latest Gold Heart Pin PSA featuring "The Minions" from Universal Pictures' and Illumination Entertainment's upcoming "MINIONS," to be released in July, 2015.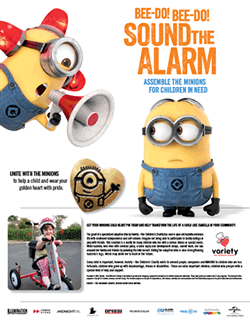 Universal Pictures and Illumination Entertainment have collaborated with Variety - the Children's Charity to create limited-edition pins featuring Illumination's beloved Minions for Variety's 25th annual Gold Heart Pin Campaign. Proceeds will benefit Variety programs that serve children who are disabled and disadvantaged.
The collector's item will be available for a minimum donation of $3.00 in movie theatres and select retail outlets nationwide from November 2014 - August 2015.
Since 1991, the Gold Heart Pin Campaign has been Variety's signature fundraising endeavor. Variety works with one major motion picture studio every year, including Twentieth Century Fox, Walt Disney Studios Motion Pictures, Sony, Paramount, Warner Bros. and Universal Pictures to design a pin based on a film or character, including universally recognized characters Mickey Mouse, Kermit the Frog, E.T., Spider-Man, Shrek, Yogi Bear, Yoda, Darth Vader, R2-D2, C-3PO and now, the Minions. Through this partnership, the Gold Heart Campaign has raised millions of dollars to help children in need.
27 Drive In Theatre
Amstar Cinemas
B&B Theatres
Bank Street Theatre
Barry Cinemas
Brenden Theatres
Buffalo Grove Theater
Carmike Cinemas
Celebration! Cinema
Cinema Café
Cinemark
Cinergy Cinema
Classic Cinemas
Cobb Theatres
Consolidated Theatres
Dipson Theatres
Emagine Entertainment
Epic Theatres
Family Drive-In Theatre
Flix Brewhouse
Galaxy Theatres
Goodrich Quality Theatres
The Grand Theatre
Greendale Cinema
High Sierra Theatres
Historic State Theatre
Hollywood Blvd. Cinema
Hometown Cinemas
ICE Theatres
Krikorian Premiere Theatres
Lory Theatre
Luxury 5 Cinemas
Malco Theatres
Maple Theatre
Marcus Theatres
Metropolitan Theatres
Micon Cinemas
Movie Tavern
National Amusements
NCG Cinemas
Pacific Theatres
Premiere Cinemas
Reading Cinemas
Regal Cinemas (Paper Hearts in Southern California only)
Regency Theatres
Rogers Cinema Theatres
Rouman Cinema
Royal Cinemas
Santikos Theatres
Sawmill Theatres
Schulman Theatres
Showplace 3 Cinema
Spotlight Theatre
SR Entertainment Group
Stanley Theatre
Starplex Cinemas
State Theatres
Studio Movie Grill
TCL Chinese Theatre
Texas Cinema
Tristone Cinemas
Ultrastar
Vassar Theatre
Wehrenberg Theatres

Don't see your local theatre on this list? Find the Variety chapter nearest you on our Locations Page and contact them to find out how to get your 2015 "The Minions" Gold Heart Pin and past Variety Gold Heart Pins!
Is your company interested in joining 1,100 locations nationwide in participating in the Variety Gold Heart Campaign? Please e-mail info@usvariety.org for more information.